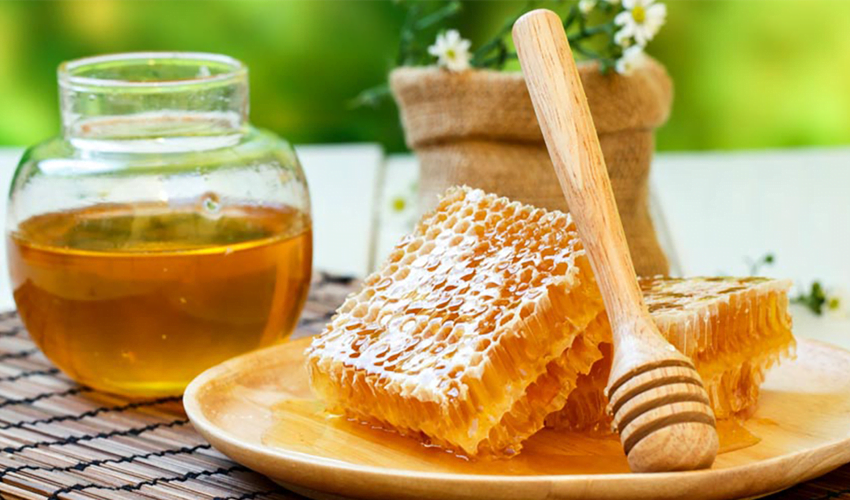 02 Feb

Honey – The Natural Sweetener

Honey is one ingredient that has its name mentioned even in the scriptures. And if God had mentioned it, honey surely did have a lot of uniqueness and goodness in it. Yes, it is considered as one of the natural sweeteners with a lot of health benefits and medical uses. If you research on this natural sweetener and its history, you will clearly understand that raw honey was used widely in medication.
How do you get natural honey ?
Honey is made by bees. They collect nectar from flowers and stores in the beehive. From inside the beehive, the nectar is repeatedly consumed and digested and then regurgitated to form honey. The flavor, smell, colour and the taste depends on the type of nectar. It is then extracted from the beehives.
There are different types of honey available depending on the extraction method, the source and whether it is pasteurized or not.  Some common types of honey are
Clover
Avocado
Buckwheat
Blueberry
Sage
Eucalyptus
Orange blossom
Alfalfa
Let us look at some of its medical uses
It has antifungal and anti-bacterial properties.
Specific types of honey also has healing properties, which when applied on wounds, fastens the healing and reduces infection.
It also helps in digestion and related issues.
It also soothes a sore throat.
The antioxidants in it helps reduce blood pressure.
It also helps to improve cholesterol and lowers triglycerides.
Nutritional Facts
1 tablespoon or 21 grams of honey contains the following nutritional values.
64 calories
17 grams of sugar, including fructose, glucose, maltose and sucrose
No fiber, fat or protein
Contains under 1% of the RDI like enzymes, amino acids, B vitamins, vitamin C, minerals and antioxidants
Be extra careful when you buy this from the market. Make sure they are from a reputed brand. You can get to buy this natural sweetener mixed with syrup in the markets. Always remember, that honey in the raw form is best to use. However, it has some side effects as well. As it is not pasteurized, there are high chances of food poisoning as it may have some foreign particles in it.
Is it "good" or "bad"?
This is a question that made most debates worthy. There had been many debates and arguments in the near past on the goodness of honey and if it is good for people with diabetes. Well, now that needs a lot of explanation as there are many answers to it.
It is definitely a "better alternative" to sugar. Remember it is just a "slightly better alternative". It has a lower glycemic index when you compare it to sugar and is believed that it will not spike your blood sugar levels like sugar.
It contains sucrose, glucose and fructose and hence diabetic people must be cautious when consuming it. Depending on your diabetic condition and the quantity of intake, the after effects vary from person to person. It is believed that it lowers "bad" cholesterol, triglycerides and inflammation where as it increases "good" cholesterol. However, it is always better to take this natural sweetener in very less quantities.
Remember that honey is high in sugar and also has high calories. But when teamed with certain other ingredients like lime or cinnamon, it helps in weight loss as well. Mix a tablespoon of honey in warm water with juice of a lime and have it on an empty stomach in the morning. This helps in weight reduction. (Make sure, you do some workout).