17 Jan

Butterscotch Pudding with 3-Layers

Ingredients

To Make Caramel Sauce :

Caramelised Nuts :

Make Middle Layer :

To make the Base Layer :

2

Packets Hide and Seek Biscuit

Method

Make the Butterscotch Sauce

1

This 3-layer Butterscotch Pudding may probably seem like it could take some time to make. But, it is undoubtedly very delicious and actually quite easy to make. Let us see here the recipe for this pudding:

First you need to make the butterscotch sauce. To start, heat half cup sugar and also caramelise it. Then, add unsalted butter. Let it melt. Next, add 1/2 a cup of cream to this and make it to a smooth consistency on slow fire. After a while, take it off the gas and keep aside. When it cools, let it chill in the fridge.

Caremalise the Nuts

2

As the next step, caramelise nuts. Accordingly, heat a pan over medium heat, for this. Never overheat it, but. Furthermore, add sugar and caramelise it. Most importantly, do not burn the sugar. Now, put in cashew nuts and one spoon butter. Also, mix it thoroughly till the nuts are evenly coated with the caramel and butter. After that, pour this mixture onto a greased butter paper and also spread it. Then, when it cools, crush and keep it aside.

Make the Base Layer

3

First of all, grind two packets of hide and seek biscuits in a mixer. Now, add 3 tbsp of melted butter and also blend it thoroughly. After that, spread it evenly in a pudding tray and refrigerate again for half an hour. Let it set.

Make the Middle Layer

4

To start with, soak 10gm China grass in 1/2 a cup of water. The next step is to mix the milkmaid, milk and sugar together and then to cook it till it just boils. Then, add 1 tsp vanilla essence and take it out from the stove. Finally, heat the China grass with the water. Meanwhile, let it melt completely, then take it from the heat and add it to the milkmaid mixture. Keep stirring constantly, throughout. After it cools a bit, pour it over the biscuit layer. Then, refrigerate this again for more time.

Do the Final Garnish

5

Now garnish the pudding with the caramelised nuts and top it with butterscotch sauce. The crispy biscuits with the chocolate flavour and the creamy pudding layer with its crunchy butterscotch topping is just too yummylicious to resist. One bite of this butterscotch pudding and you would be in bliss!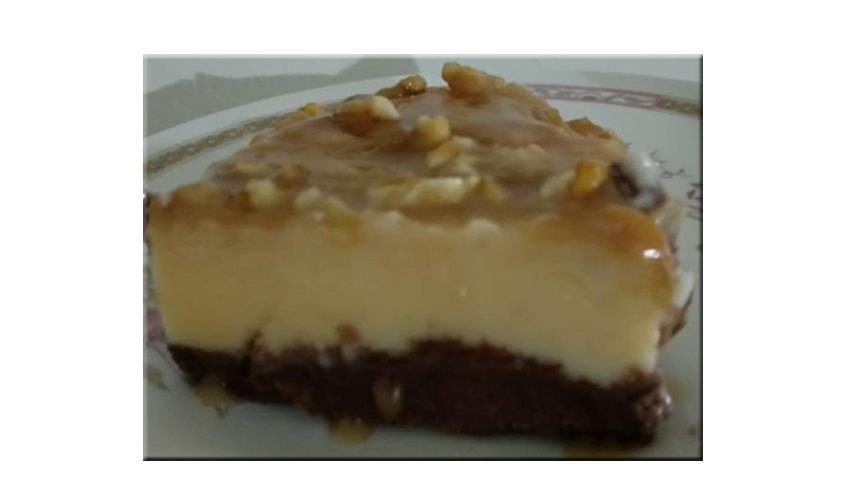 Recipe by : Vilasini Gopinath
Nutrition Facts
Servings 15
---
Amount Per Serving

% Daily Value *

Total Fat 16.9g

26

%

Saturated Fat 8.6g

43

%

Cholesterol 36mg

12

%

Sodium 225mg

10

%

Potassium 199mg

6

%

Total Carbohydrate 53g

18

%

Dietary Fiber 0.8g

4

%

Sugars 38.8g

Protein 7.2g

15

%
---
Calcium

14

%

Iron

5

%

Vitamin D

22

%
* Percent Daily Values are based on a 2,000 calorie diet. Your daily value may be higher or lower depending on your calorie needs.
Disclaimer : The nutrition facts given in this site is for informational purpose and indicative of the estimated serving sizes. It is only an approximate nutritional value and could change depending on the product types, brands, substitutions and amount of ingredients used.