08 Feb

Biscuit Roti

Prep Time20 minsCook Time20 minsTotal Time40 mins

Ingredients

For the Dough

For the Stuffing

1

cup

Urad Daal (soak in water for 1 hour)

Method

1

Biscuit roti is a different roti or Indian bread that tastes very special and it is easy to make as well.

First of all to make the biscuit roti, soak the urad dal in water for an hour. Then drain and air it in a piece of cloth.

Now, you can take the maida, atta, rava and chillie powder. Make sure to mix it thoroughly. You can also add salt to taste and oil to the mix. After that, add water bit by bit and keep kneading the mixture till you get a dough. Ensure that you don't add too much of water. Make small balls out of the dough as you do to make puris.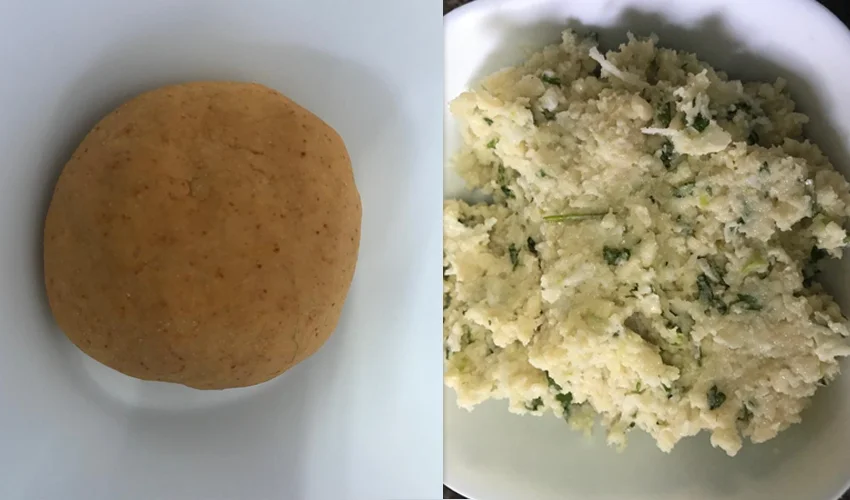 2
Meanwhile, dry the mixie and grind the urad dal with 2 chillies, asafoetida and salt as per preference. After that add 3 tbsp grated coconut, coriander leaves and curry leaves, to this mixture.
3
You can then take the dough balls you have made and flatten it a bit with your hands. Then add a ball of urad dal mixture to the centre and wrap it up. You can use the chapati roll to roll out the biscuit rotis. Then, fry it in oil, like you do with puri.
The biscuit roti is just yummy and is best served with a hot and sweet chutney (recipe for which i shall update soon).
Recipe by : Vilasini Gopinath
Nutrition Facts
Serving Size 7
Servings 3
---
Amount Per Serving

% Daily Value *

Total Fat 1.9g

3

%

Saturated Fat 0.6g

3

%

Sodium 17mg

1

%

Potassium 33mg

1

%

Total Carbohydrate 17.7g

6

%

Dietary Fiber 3.3g

14

%

Sugars 0.6g

Protein 4g

8

%
---
Calcium

0

%

Iron

5

%
* Percent Daily Values are based on a 2,000 calorie diet. Your daily value may be higher or lower depending on your calorie needs.
Disclaimer : The nutrition facts given in this site is for informational purpose and indicative of the estimated serving sizes. It is only an approximate nutritional value and could change depending on the product types, brands, substitutions and amount of ingredients used.