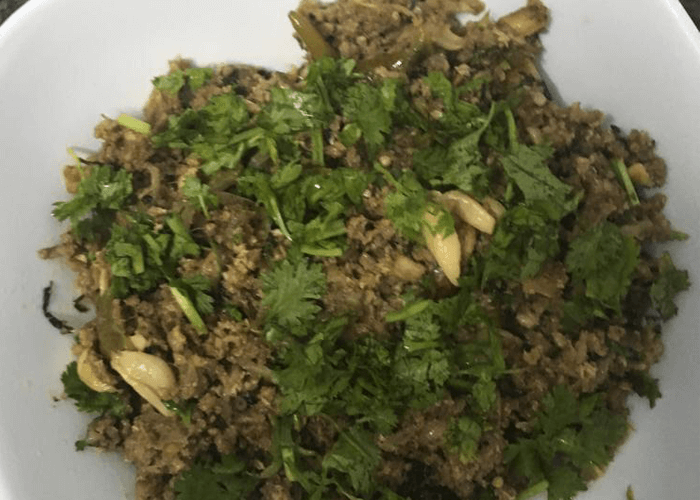 29 Jan

Mirchi Kheema

Prep Time30 minsCook Time20 minsTotal Time50 mins

Ingredients

50

g

Green Chillies (gram) slit

Method

Recipe by : Sai Meera

1

A very tasty and yummy dish, everyone likes the Mirchi Kheema. It also goes well with Chapati, Naan, Paratha and other dishes. You can use this Kheema as a filling for Khatti rolls, as well. Not to forget, the aroma of the meat cooking also help to enhance your anticipation to taste it. Now, See here the preparation method for this delicious dish.

2

To start with, wash the keema/ kheema very well first and then put it in the pressure cooker with the curd, 2 slit green chillies and salt. For the next step, pressure cook the meat for 3 whistles. (Cooking time, actually depends upon the quality of meat you use).
3
Next, heat 4 tbsp oil or ghee (ghee definitely tastes better), but those who prefer to go more healthy can also use only oil. Then, fry the onions till it gets golden in colour. It is time to add garlic and rest of the chillies, now. You can also saute it well.
4
Then you can add the cooked keema and keep it in slow fire till it becomes dry. If you want the dish to be more spicy, you can add the pepper powder(optional). Finally, garnish this mouthwatering dish with lots of chopped coriander leaves.
Note: Kheema is known as the mince or minced meat, outside of North America and in India, we call it Keema or Qeema. The Ground meat can be of any poultry, beef, meat, lamb and so. The meat is chopped by a meat grinder or a chopping knife to get it to the required consistency.
Nutrition Facts
Servings 6
---
Amount Per Serving

% Daily Value *

Total Fat 14.9g

23

%

Saturated Fat 7.5g

38

%

Cholesterol 1mg

1

%

Sodium 77mg

4

%

Potassium 174mg

5

%

Total Carbohydrate 11.7g

4

%

Dietary Fiber 1.7g

7

%

Sugars 2.8g

Protein 16.9g

34

%
---
Calcium

4

%

Iron

3

%
* Percent Daily Values are based on a 2,000 calorie diet. Your daily value may be higher or lower depending on your calorie needs.
Disclaimer : The nutrition facts given in this site is for informational purpose and indicative of the estimated serving sizes. It is only an approximate nutritional value and could change depending on the product types, brands, substitutions and amount of ingredients used.