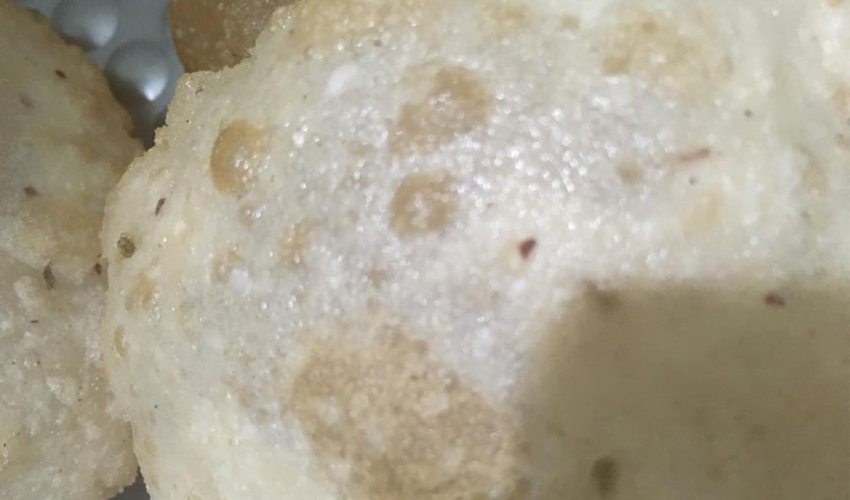 16 Jan

Ney Pathiri

Prep Time20 minsCook Time20 minsTotal Time40 mins

Ingredients

6

tbsp

Coconut grated (heaped)

Method to make Ney Pathiri- Malabari Cuisine

1

Ney pathiri (also known as poricha pathiri) is a part of the scrumptious malabari cuisine. This, here is the recipe for easy to make Ney Pathiri and you can have it with some yummy vegetable curry or that mouthwatering chicken stew. It is also a common item often found for ifthaar during the Ramzan season. To start with, you need to grind the grated coconuts with small onions and fennel seeds. Afterwards, mix it with the rice flour and also add the salt and mix well. Make sure you blend them well.

2

The next step is to add the hot water to this and stir with a ladle. Make sure that the water is really very hot. Then mix well and knead to a soft dough. That is knead this ney pathiri dough to something similar to a puri dough.
3
Now, make small balls of the dough and also press it using the puri presser. Then fry it in hot oil. Turn sides and fry the otherside, likewise. Finally, your ney pathiri is now ready. Serve it with any curry of your choice. In fact, mutton is another yummylicious curry that goes really well with this tasty malabari cuisine.
Recipe by :Vilasini Gopinath
Nutrition Facts
Serving Size 2
Servings 10
---
Amount Per Serving

% Daily Value *

Total Fat 35.9g

56

%

Saturated Fat 17.6g

89

%

Sodium 25mg

2

%

Potassium 44mg

2

%

Total Carbohydrate 44.4g

15

%

Dietary Fiber 5.4g

22

%

Sugars 1.9g

Protein 4.7g

10

%
---
Calcium

1

%

Iron

7

%
* Percent Daily Values are based on a 2,000 calorie diet. Your daily value may be higher or lower depending on your calorie needs.
Disclaimer : The nutrition facts given in this site is for informational purpose and indicative of the estimated serving sizes. It is only an approximate nutritional value and could change depending on the product types, brands, substitutions and amount of ingredients used.