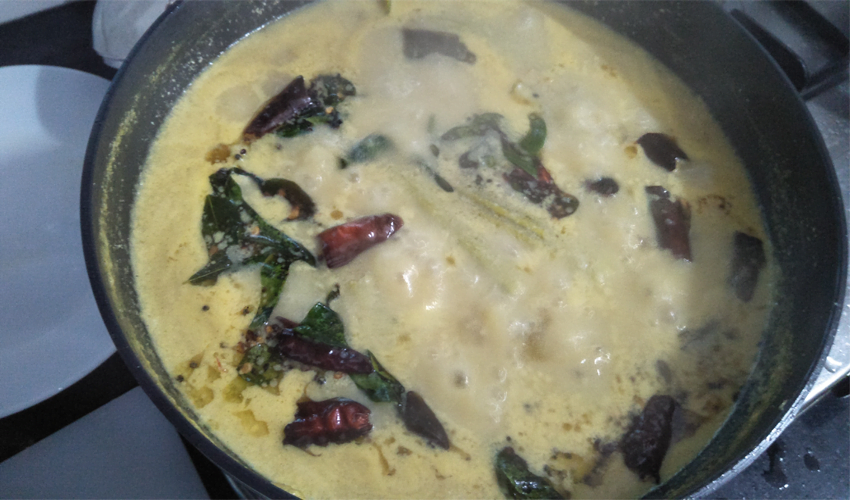 04 Apr

Prawns and Drumstick Curry

Prep Time30 minsCook Time20 minsTotal Time50 mins

Ingredients

For the Gravy

For the Tempering

Method

1

Here is a very delicious curry from my mom's cookbook. Prawns when made with drumsticks and raw mango gives an authentic flavour and I am sure you will drool over this curry. Here is the how we make prawns and drumstick curry in coconut gravy with raw mango. This is a traditional dish of the South Indian or to be specific, South Kerala Christian families.

To start with, keep all the ingredients ready. First, clean and devein the prawns and keep it aside. Next step is to wash and cut the drumstick into approximately 1.5 to 2 inches in length. Keep the onions sliced or chopped, green chillis slit open and ginger chopped fine or into juliennes ready.
2
Heat a heavy bottom pan and mix together prawns, drumstick, onions, ginger, green chilli, and turmeric powder. Make sure you add 1 cup of water or enough water to partially cover all the ingredients and bring it to a boil. Once the prawns and drumstick are almost cooked, you have to add in the chopped raw mango and bring it to a boil.
3
In the meantime, grind together the desiccated coconut along with the other ingredients for the gravy with some water and make it to a fine puree. Add this gravy to the prawns mix. Add adequate water for the gravy. Add salt as required and bring to a boil.
4
Now, for the tempering, heat oil in a pan. When hot, you have to put in the mustard seeds. After it splutters, add in the fenugreek seeds. Then the dry red chilli and the curry leaf. Saute for a minute. Put this into the prawns' gravy and immediately close with a lid. Switch off the flame of the curry.
Yummy and delicious prawns and drumstick curry made with raw mango and coconut gravy is ready. It tastes best with rice.
Recipe by : Babitha Rosy Santhosh
Disclaimer : The nutrition facts given in this site is for informational purpose and indicative of the estimated serving sizes. It is only an approximate nutritional value and could change depending on the product types, brands, substitutions and amount of ingredients used.