25 Jan

Unnakaya

Prep Time15 minsCook Time25 minsTotal Time40 mins

Ingredients

4

Semi ripe bananas boiled and de seeded

Method

1

Unnakaya (as it is called traditionally) or stuffed plantain fry is a traditional and delicious snack from the Malabari Cuisine. It is a must-have snack on special occasions and festivals. The Unnakaya recipe given here is a low-fat one. So, yes this is for the health conscious people.

To make this Unnakaya, you first have to boil the bananas and will have to deseed them. The next step is the mash the boiled bananas.

2

In the meantime, fry the grated coconut, cashew nuts and raisins in ghee. Once done, add sugar and cardamom powder to this mix and keep aside.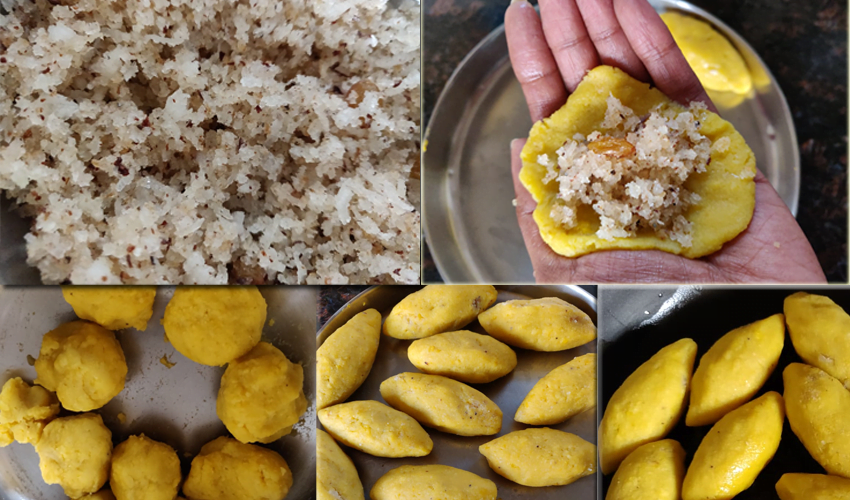 3
Now the next step is to make the unnakaya. For this, slightly wet your palm so that the banana does not stick to your hands. Take almost a lemon size amount of banana and flatten it. Keep some coconut mix in the center of this and seal it on all sides to form the oval shape.
4
The last step is to fry this. For this, heat a pan and add the coconut oil. Now shallow fry the unnakaya till golden brown. Since this is a low fat version, we have used very less oil to fry. You can add more oil for frying according to your taste and need. Yummy Unnakaya is now ready to eat.
Recipe by : Jeena Sumesh
Nutrition Facts
Servings 6
---
Amount Per Serving

% Daily Value *

Total Fat 17.1g

27

%

Saturated Fat 14.4g

72

%

Cholesterol 2mg

1

%

Sodium 9mg

1

%

Potassium 171mg

5

%

Total Carbohydrate 31.4g

11

%

Dietary Fiber 7.5g

30

%

Sugars 21.1g

Protein 3g

6

%
---
Iron

6

%
* Percent Daily Values are based on a 2,000 calorie diet. Your daily value may be higher or lower depending on your calorie needs.
Disclaimer : The nutrition facts given in this site is for informational purpose and indicative of the estimated serving sizes. It is only an approximate nutritional value and could change depending on the product types, brands, substitutions and amount of ingredients used.