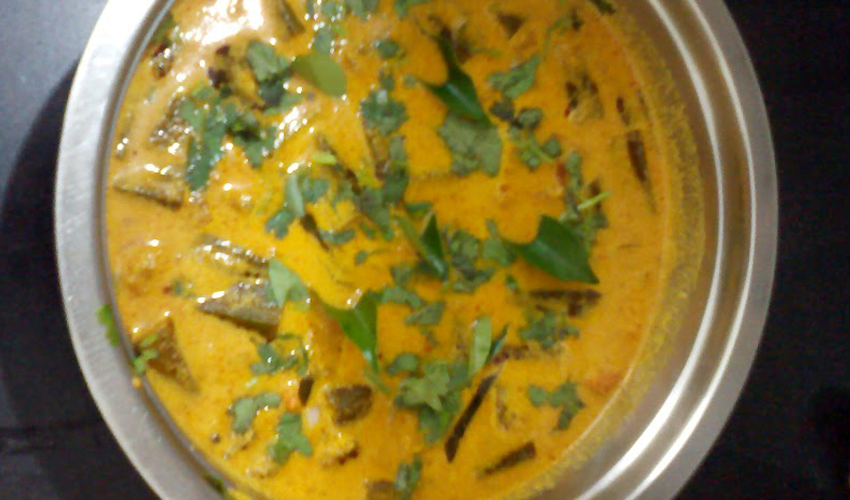 06 Jan

Vendakka Karakuzhambu

Prep Time15 minsCook Time25 minsTotal Time40 mins

Ingredients

200

Gram Ladies Finger (Okra)

Tamarind - size of a big lime

Coriander leaves to garnish

Method

1

Vendakka KaraKuzhambu or Kulambu is an easy to make curry made often for lunch, promising the benefits of okra. It is best served with rice. The Karakuzhambu can be made using brinjal, drumstick or Okra. Here, we talk of Vendakka (Okra) Karakuzhambu.

Take a look here on how to prepare this Karauzhambu with Vendakka or Okra. To start with, heat oil in a pan. Then, add in mustard seeds. When it begins to crackle you can add in fenugreek seeds. Also, wait till it becomes golden in colour.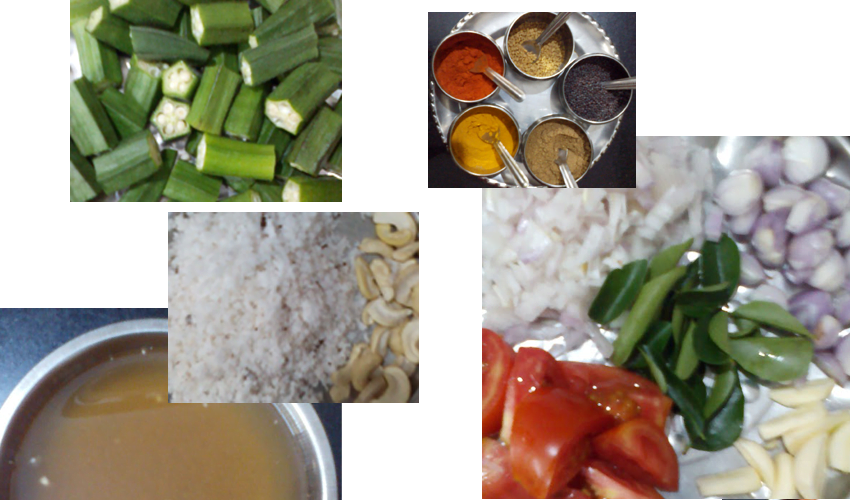 2
Then add in small onions and garlic. When it becomes soft then add big onion and the curry leaves. Furthermore, fry it well and then add okra to it. Next, sauté it well.
3
Then add tomato, salt and all the spices. You can also sauté it till the raw smell diminishes. Then add tamarind water and cook the vendakka karakuzhambu with the pot covered. When the Okra curry is cooked well, you can go on to add in coconut and cashew paste.
4
Also make sure to add the required amount of water. Then let it cook for 2-3 minutes with the lid of the pot closed till you get the desired consistency for the vendakka karakuzhambu. Then remove the Vendakka (Okra) Karakuzhambu from fire and garnish with coriander leaves.
Recipe by : Vilasini Gopinath
Nutrition Facts
Serving Size 128g
Servings 6
---
Amount Per Serving

% Daily Value *

Total Fat 6.66g

11

%

Saturated Fat 0.719g

4

%

Trans Fat 0g

Cholesterol 0mg

Sodium 352mg

15

%

Potassium 328mg

10

%

Total Carbohydrate 13.29g

5

%

Dietary Fiber 2.8g

12

%

Sugars 3.75g

Protein 2.53g

6

%
---
Vitamin A

19

%

Vitamin C

25

%

Calcium

7

%

Iron

6

%

Vitamin E

19

%

Vitamin K

15

%
* Percent Daily Values are based on a 2,000 calorie diet. Your daily value may be higher or lower depending on your calorie needs.
Disclaimer : The nutrition facts given in this site is for informational purpose and indicative of the estimated serving sizes. It is only an approximate nutritional value and could change depending on the product types, brands, substitutions and amount of ingredients used.