05 Feb

Fruit Charlotte Cake – Filled with Fresh Fruits

It feels really nice when you can be a part of a cake launch, especially when you are among the very few who get to eat a signature cake for the first time. The very first look of the cake surely did entice the foodie in me. Yes, I am speaking about Fruit Charlotte Cake, from Bun Club, Eranjipalam, Calicut.

The name of the cake was simply perfect for it and the looks were indeed tempting. Topped fully with fresh fruits, the cake reminds me of old fairy tales. It did not have any castles built on it, but the sides of the cake were fenced with what they called "ladyfingers". No, it is not the vegetable lady's finger nor did it look like a vegetable. This lady's finger is made with meringue. It is delicious, soft and crunchy and it melted in my mouth. This decoration on the sides made the cake look beautiful.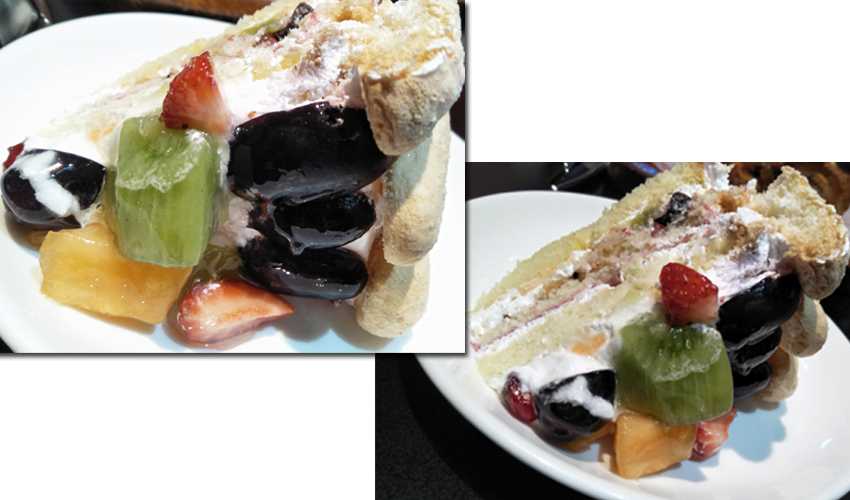 The whole cake is topped with freshly cut fruits like grapes, kiwi, apple and green apple, strawberry, mango and more stewed or coated in sugar syrup (I think the fruit choices vary depending on the season). The cut piece of the Fruit Charlotte Cake was even yummier, as the cake had another layer of fruits inside it which had its flavor enhanced when it was coated with the rich fresh vanilla cream. The vanilla cake was moist – yes with perfection. There are a lot of fruit cakes available in the market, but this one is an exception. It has a unique taste.
If you are in Calicut, a small city in Kerala, don't miss the chance to taste this yummy Fruit Charlotte Cake from Bun Club.