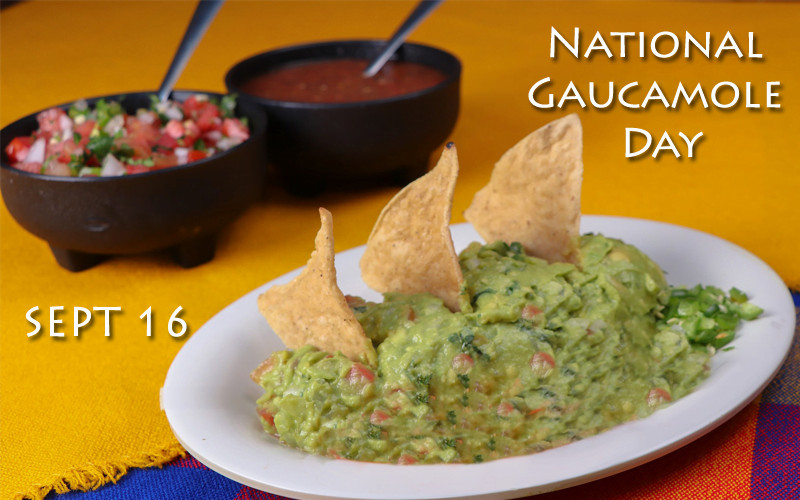 16 Sep

National Guacamole Day – Sept 16

What is Guacamole? It is a simple dip made with avocado perfectly mixed with some spices and flavourings. The origin of this dip dates back to the 16th century. The roots of Guacamole is from Mexico, and for that reason, National Guacamole Day is celebrated on September 16 which is the same day as Mexican Independence Day. However, it has been widely accepted worldwide and today it is a part of International cuisine as a dip or salad dressing or a condiment. It totally depends upon you on how you want to use it.

This simple dip is loaded with minerals and vitamins, and the reason is simply the benefits of the main ingredient used – Avocado. Very soon we will come up with another article on avocado and its benefits.

You need to use ripe avocado to make this dip. Along with the mashed ripe avocados, you may add some cilantro, onions, lime, salt etc for flavourings. But it totally depends on you to make any innovations in the recipe to give it a different touch or a modernised version. Just a suggestion, always try to make it and have it fresh. Don't keep it too long as the colour of the ripe avocado may change and can be stale. This may be unappetizing.

Guacamole is usually had with tacos, nachos, burritos etc. It is a part of the weight loss diet nowadays and the health-conscious ensure that this recipe is in their chart. 

You can check out how to make guacamole on our website by Shabnam Bahmanian. Do try out our version of guacamole and never hesitate to change the flavourings according to your likes. Please do share the changes made and the outcome – we shall update them on our site. 

So let's celebrate National Guacamole Day – include it in your healthy diet plan.