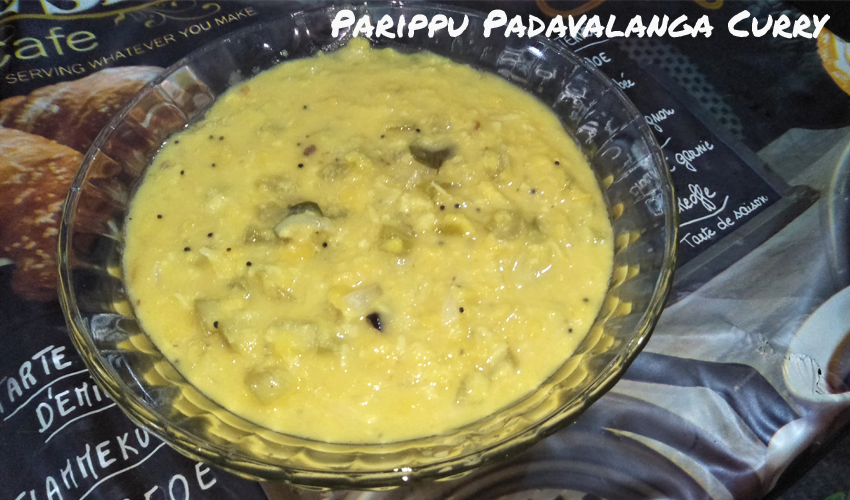 29 May

Parippu Padavalanga Curry

Prep Time20 minsCook Time1 hrTotal Time1 hr 20 mins

Ingredients

1

Padavalanga or Snake Gourd (small sized)

2

cups

Thick Coconut Milk

For the Tempering

1

Parippu Padavalanga Curry is something that can be made for regular meals. This is a delicious dish that can be made with ease even when you are in a hurry. To make this padavalanga curry with parippu, you need these two main ingredients. Soak the dal or parippu in water for at least two hours.

2

Then cook the dal in some water with chopped onions, green chilli and turmeric powder. When the dal is more than half cooked, add in the chopped snaked gourd, grated fresh coconut, and thin coconut milk. Now add salt according to your taste.

Cook till the snake gourd and the dal is cooked fully. Once it is cooked, the next step is to add in the thick coconut milk. After adding the thick coconut milk, you need not boil it for long, simmer for some time and switch off the flame as the curry starts to boil.

3

For the tempering
To do the tempering, heat oil in a pan. When the oil is hot, add in the mustard seeds and when they start to splutter, add in the fenugreek seeds. Next goes in the red chilli, curry leaves, and chopped shallots. Saute for some time and then pour it into the parippu curry and close the lid immediately. This gives more flavour of the tempering for the curry.

Delicious parippur padavalanga curry is ready. You can serve it hot with rice.

Recipe by : Babitha Rosy Santhosh

Disclaimer : The nutrition facts given in this site is for informational purpose and indicative of the estimated serving sizes. It is only an approximate nutritional value and could change depending on the product types, brands, substitutions and amount of ingredients used.